GC Game Previews
2. Screenshots and a small amount of information
3. A list of Confirmed Games that don't have reviews
A GameCube Mini-DVD in comparison with a N64 Cartrige: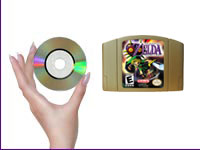 FULL PREVIEWS
Saffire- A first person game where you play as the children of the Gods.
Stunt Driver- A new type of car racing game
Picasso- A game where you get to steal famous artworks
Zelda- If you can read the title, I'm sure you can guess!
Thornado- Similar to Metroid and the sequel to Turrican on SNES
Too Human- A cool looking new game for the Game Cube.
SCREENSHOTS & LITTLE INFO
Mario or Super Mario 128- A must game on any Nintendo system.
Luigi's Mansion- A game that seems to be based solely on Luigi
Waverace- A water game where you ride Jet Ski's
Pokemon: Meowth's Party- A Pokemon game with Meowth as the main character
(Nameless Game)- This game looks like Rainbow 6 and is by the same designers.
Random Screenshots- Some screenshots from a game(s) that I don't have any info on
Title Defence- A very good boxing game.
Mario Kart- A game that I'm sure you've all heard of on other Nintendo Systems.
A LIST OF CONFIRMED GAMES
| | |
| --- | --- |
| Title | Publisher |
| Dinosaur | UbiSoft |
| Donald Duck | UbiSoft |
| MLB | Midway |
| NBA Hangtime | Midway |
| NFL Blitz | Midway |
| Online FPS | Retro Studios |
| Robocop | Titus |
| The Road to El Dorado | UbiSoft |
| VIP | UbiSoft |