Picasso
8th July 2000
Screenshot: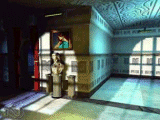 You basically play as an art thief who has just been hired by a wealthy art collector to steal some incredibly expensive pieces of art. This art collector is out to prove to his friend, who is also a wealthy art collector that he has a better art collection. This supposed friend of the person who hired you will not be beaten that easily, so he also hires a thief to steal artworks. I imagine that at some stage you will have to confront this other thief or race him to steal a piece of art or maybe they have come up with something else, but I think there has to be something.
This game sounds unlike any other game that we have ever seen: it is a minimum violence, strategic, skilful, heart pounding, art-thievery action game. Maybe it will even fit into some kind of Sub-genre, like Action-Strategy or Action-thievery. I don't know what it will really fit into, but what I do know is that I want this game and when Dolphin comes out, and I get one (which I hope so), it will have to be one of the first games I get.
What I mean by minimum violence is that you only get a small line of weapons: a dart gun and chloroform. The dart gun will stun a guard for a short time, but once he wakes up he will just run off and get help from his friends. The chloroform will render guards senseless, but I betcha' you won't get much of that just sitting on the ground, waiting for you.
The Dolphin version of the game will include multi- player capabilities, enabling you to go against other thieves in an all out stealing frenzy. If Dolphin has internet capabilities than playing online is surely going to be a feature included.
Picasso is not only coming to the Dolphin, but to all of the Next Generation consoles. Of course, we all know that the Dolphin version will be the best.
-Info-
Genre:
Action
Memory Pak:
Unknown
Rumble Pak:
Unknown
Number of Players:
N/A
Release Date:

Publisher:
TBA
Developer:

Movies:
Other Screenshots:
Note: these will get better quality as the game is further developed
Note: Click "BACK" in your browser to return here